NIBI Online Training
Online Inspector Training Program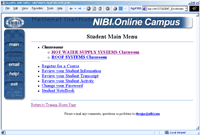 NIBI Online, the National Institute of Building Inspectors Online Learning System is now offering eleven (11) courses on the major elements of a house and home inspection basics. Each individual course is designed to be completed during a 45-60 day session.

All ten courses can also be completed as part of a Subscription Series. This extensive course which covers all the major elements of a standard home inspection is designed to be taken over a six to eight month period.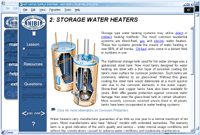 Each core element course includes detailed information on component design and materials, common construction and installation practices, inspection guidelines and extensive glossaries. Key issues are highlighted using schematics and diagrams, digital imagery, photos with defect descriptions, and review questions. Hot links to the websites of building and home inspector associations, manufacturers, and other resources for information on specific products and issues are also provided. When a module is completed, student learning is assessed with a graded test that also prepares the student for exams that may be required for local home inspector licensing or registration requirements.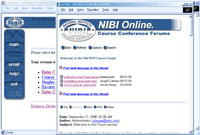 For additional learning value, as well as a motivational factor, students also have direct e-mail access to instructors and the NIBI technical staff for questions, clarification and other correspondence or assistance that might help with the learning process.

---

Course Fees
The fees for the NIBI Online Learning Program are based on individual course content and credit hours. Specific details on the individual course fees can be reviewed by (clicking here) or on the specific course button. Discounted rates can be arranged for large organizations or groups meeting minimum volume levels during the preceding year.
---

Accreditation
NIBI Online courses are approved for Membership Renewal Credits (MRC) by the American Society of Home Inspectors (ASHI), the National Association of Home Inspectors (NAHI), and other home inspector organizations and state licensing programs. Many courses are also approved by state licensing board for continuing education credits. Click here to review course catalog and credits. Contact NIBI to confirm the current approval status of any course.
---

Course Upgrades
The NIBI Online Learning Program has the flexibility to be revised and expanded on an ongoing basis to keep up-to-date with changes in the residential construction and home inspection industries. To avoid bandwidth problems that typically plague graphic and media intensive programs, the use of such memory consuming mediums has been kept to a minimum. But the program has the capability to readily integrate video and numerous interactive features when the technology is commonly available to all users to further facilitate student learning.